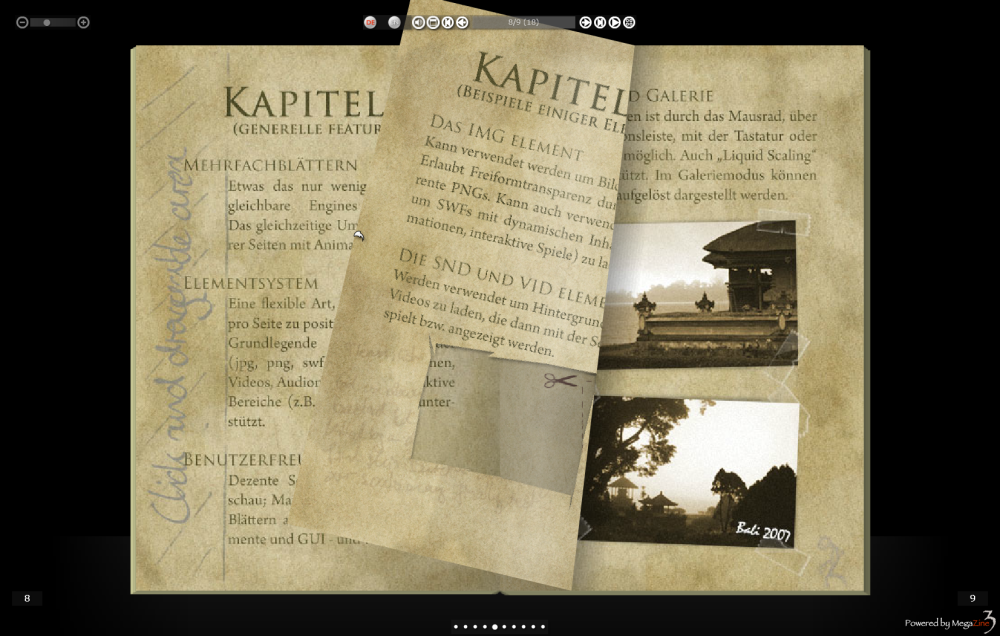 mz3Tool is a comfortable and powerful tool for building book-like documents (catalogs, magazines, books, company profiles and more).
This IDE (integrated development environment) guides you through all steps from a PDF file or just a collection of images to the ready book:

starting with a

PDF

file (1-click conversion) or alternatively from images ("page images" in jpg or png format)
then optionally adding elements like

Images
Video Files
Sound Tracks
Links

and finally creating the complete package of choice (Offline- or Online Package)
With full support of designing your books:

Add Background Image
Add own Logo
Use any page background color or image
Select the kind of Page (flexible or stiff)
Add a simulated fold
Add and configure a Navigation Bar or Burger Menu (for use on Mobile Devices)
The presentation of the book is done by the MegaZine3 Software, which is part of mz3Tool and will be bundled in the correct version with the selected distribution package, i.e. as

Javascript Program
For use in any browser on any platform, including smartphones
mz3Viewer: stand-alone

APP


For Installation on WIndows10 or macOS computers


mz3Tool supports a simple selection of the package and automatically creates the complete package containing all files (images, video, sound, configuration) and programs.
You can ditribute your books as

ZIP

file, e.g. via

memory stick
by Email
Only recommended for smaller books with < 10MB. To not run risk the email server refuses the attachment because of exceeding the maximum allowed size.
any Cloud Service
like Dropbox, iCloud, amazonDrive, OneDrive, GoogleDrive, …
as download offer from your own Server

via the Internet
from your Server and use of the Mz3 Book in any Browser.


Free Downloads
You can download the following free Programs from our" MegaZine3 Website":https://megazine3.de (without being forced to register ;-)

mz3Tool
Complete package with all features and programs, but these little restrictions:
mit fast allen Funktionen und Programmen.
No own Logo, no more than 10

PDF

-pages converted. a watermark on all pages and the "Demo Version Indicator" (Demo poweredBy image).

"DemoVersion Windows":https://megazine3.de/downloads/mz3v244/mz3Demo.msi
"Demo-Version macOS":https://www.megazine3.de/downloads/mz3v244/mz3Demo.pkg
mz3Viewer
Free Offline-Viewer for Mz3-Books
Last modified:
2019/08/15
Feedback
Thanks for your feedback.