Show Mz3 book in mz3Viewer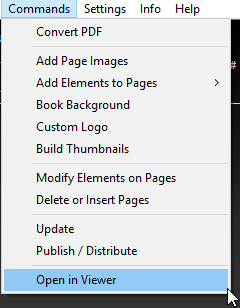 For better control, an Mz3 book can also be viewed quickly and easily in the mz3Viewer.
This option should be used when dragging links, videos, pages, zooming with the mouse, … or in general everything should be checked, what you should click into the book.
Since mz3Tool intercepts and uses all clicks (for example, to open the Modify Elements on Page window), these operations are not available for the book functions.
The mz3Viewer can be called up via the menu item Commands – Open in Viewer and then displays the current Mz3 book immediately. Without this would have to be published by Publish.
This (free Windows) or MAC OSx program can be loaded via the links provided by our website.
Last modified:
2019/01/26
Feedback
Thanks for your feedback.