This is the default setting after opening the "Assign Page Images View" window after selecting the page images (see Selecting Page Images Page Images}) ,
mz3Tool interprets the last found number in the file name as a page number.

Example of a picture selection *
The following example shows images that have been numbered differently (wildly copied).
They should form the pages of an empty "double-page book". A double page book uses all the opposite pages of an open book for a page image.
Exception: The two deck pages (1st and last page) are half-width single pages.
In the following example different cases are marked in color. The cases are discussed below.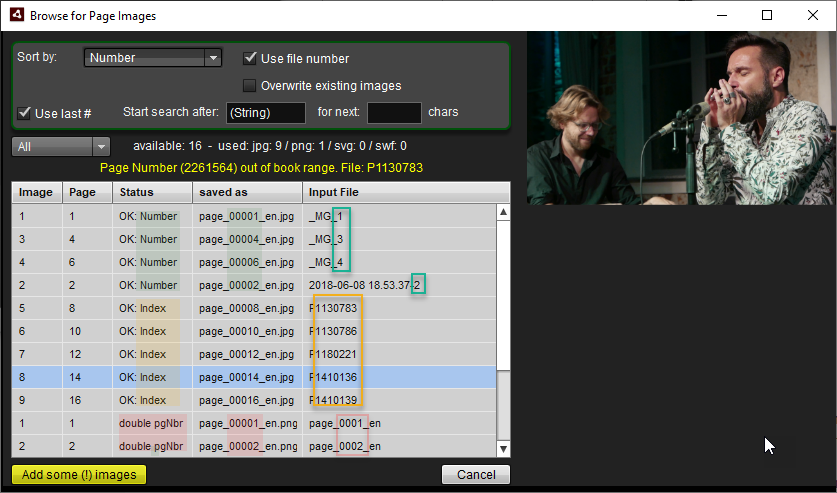 Case 1: Status@ok: number@(marked in green)
If the determined page number is in the page area of ​​the book, the status is set to@OK: number@, and the file name under which the copy of the image is saved in the current project is assigned accordingly (saved as).
Ideally, the file name will contain a valid image number, as is the case with the green-marked images. A valid page number is framed in green.
For books with single pages, the image number is the page number.
For books with double pages, i. if the left and right open pages of a book are combined to a "logical" page, the assignment is always to the page number of the left side (which corresponds to the left half of the double page). Therefore, the page sequence in this example is "1, 2, 4, 6, 8, …".
Case 2: Status@ok: index@(highlighted in orange)
If the determined page number is outside the page range of the book, the status is set to@OK: index@and the number in the file name is ignored.
The images are assigned to consecutive page numbers according to the selected sort.
The sorting can be done via the number contained in the name, via the alphabetic file name, the date of creation or modification. The sort direction can be reversed (see Page number about sorting number-sorting})
Case 2: Status@double pgNbr@(marked in red)
If the determined page number had already been detected beforehand, the page image would be placed on the same page, superimposing the previous page image so that it would not be visible.
In such a case, the image is ignored and not assigned to any page! This is indicated in the status as@double pgNbr@.
Last modified:
2019/01/26
Feedback
Thanks for your feedback.