Open
XAMPP

project folder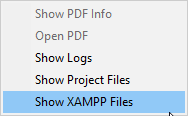 Content
XAMPP

project folder

Terminolagy
Javascript "Package"
A JS package is a folder where, after selecting Command – Publish / Distribute:https://doc.megazine3.de/mz3tool.2.4.3.11.doc/en/topic/publish-distribute and clicking! https://manula.r.sizr.io/large/user/14418/img/menu-commands-publish.png! all folders and files are collected for upload to a server to view the book in a browser.
Local server
A Javascript version of the Mz3 book can only be displayed correctly in the browser if the data is stored on a server.
Reason: Current browsers do not allow access to local files. At least media files (videos, audio) and javascript commands are affected.
In order to be able to test a "project", the data must, therefore, be put on a server.
You can always upload all (or changed) data to the "real" server. This does not only cost "Internet traffic" but also time. And the fastest possible internet connection. In addition, the project should be located in its own test area on the server, which requires additional storage space on the server.
Therefore, it makes sense to set up a local server on your own computer. We recommend the open source package

XAMP

p(see

XAMPP

: Local Server).
XAMPP

project folder
In order to make a test cycle as fast and comfortable as possible, you can set created JS packages to be saved in the "correct" folder in a subfolder with the" project/book name" as the name.
This information is given in the Basic Settings:



The quick access to this

XAMPP

project folder is done either right after the creation of the JS package (ie a "publish") via the button

, or via the menu item described here@Info – Show XAMPP Files@.
Experienced users have direct access to the configuration files created and used by MegaZine3 and mz3Tool and the contents of the Mz3 book,
Display in the browser
If a JS package was created in the

XAMPP

folder, the book can be opened in the "Publish window" via the! https://manula.r.sizr.io/large/user/14418/img/openinbrowser.png! be opened in the browser.
If the local server is running (the

XAMPP

server must be started specifically via the

XAMPP

Control Panel), the book is displayed immediately.
The browser currently used is the browser defined as the "default browser".
If you see this error message in the browser: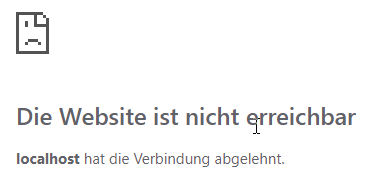 Then you should check if the local XAMPP server is running!
Only when the status message in the control panel indicates that the local server is running does the output of the Mz3 book also work locally in the browser!

Last modified:
2019/01/26
Feedback
Thanks for your feedback.