JS specific audio parameters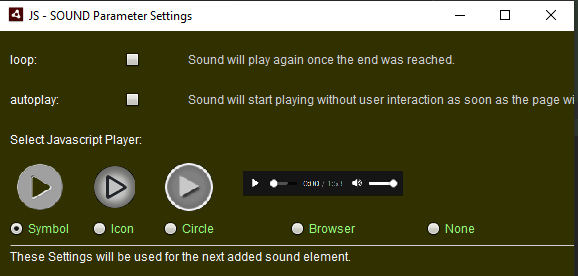 In the Javascript version you have less "bells and whistles" available, but can show a play / pause button or the standard toolbar of the browser.
There are even 3 different buttons to choose from. The button labeled "Icon" is a picture; the other two are based on special characters of the "fontawesome font".
Advantage of the Icon: The image file can be exchanged and replaced by its own icon.
Anyone who dares and has ever modified an HTML output with CSS can also use appropriate selectors to change the shape of the button, e.g. square or oval instead of round, or the color changed.
Currently there are 2 parameters available:
loop
This parameter is prepared but not yet tested.
If the checkmark is set, the file should be played by vrone again and again (later on) when the end has been reached: Continuous sprinkling ;-)
autoplay
If you set the hook, you do not have to press any paly button to start the output of the audio track: as soon as the page with the sound is opened, it automatically starts to play.
If you continue to leaf, the sound stops again and would start over again when you reach the page again.
You can also pause the output via the Play / Pause button and resume it at the same point with another click.
If the creation of a Javascript version is selected (in the menu "Commands – Publish / Distribute", the default setting), the Sounds selection window displays the type of Play / Pause button selected. He can not be changed here; To do this, click on the cogwheel or the play icon to call up the "Sound Parameter Window" (see screenshot at the beginning of this chapter).
The status of the two parameters "loop: lp" and "autoplay: ap" is also displayed and can even be changed locally without going to the Sound Parameter Settings window.
AIR

/

FLASH

specific audio parameters

!(zoom){IMAGE-LINK+sound settings}!

The brief description of the individual parameters should be sufficient for understanding the parameters.
Also, the graphical representation of the fade modes (when paging) should be self-explanatory; at least for IKEA self-made artists ;-)
Further details can be found in the "Wiki": https: //megazine3.de/doc/Sound (but only in English).

The presets should produce the best results in almost all cases, so you do not usually have to change those settings.

In the new Javascript version there will be own, javascript-specific audio parameters.
These settings will then be found under the menu item Javascript Settings.

Last modified:

2019/01/26
Feedback
Thanks for your feedback.