Add book background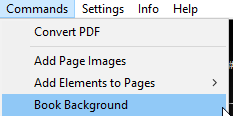 An image can be placed behind a Mz3 book.
Depending on the type of output, the background image behaves differently:
Javascript



The image is enlarged to fill the entire window.
If the page proportions do not match, the background image will be cropped on the too wide / high side (right or bottom).

mz3Viewer, Flash




The background image is always scaled to match the window in which the Mz3 book is displayed.
If the aspect ratio of the window and the background image do not match, the background image will be distorted.
The background image should therefore have as much of a similar aspect ratio as the typical window in which the Mz3 book is opened,
Therefore, a background image should be chosen that tolerates such distortions.
Background color

As an alternative to a background image, the background can also be filled with a selectable color.
The color is used in both the Javascript and the Flash online variant,

Selection and Add
Choosing a book background image works the same way as selecting any other element: Via the browse button! https://manula.r.sizr.io/large/user/14418/img/button-browse.png in the Add Book Background window!
The background image must and can not be porisitoniert.
Clear
The background image can be deleted by calling Commands - Add Book Backgroundagain@.
Last modified:
2019/02/06
Feedback
Thanks for your feedback.