Add your own logo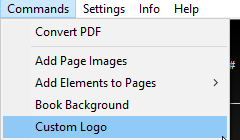 In every Mz3 book a "poweredBy logo" will be displayed in the bottom right corner, which links to our website.
Depending on the license, a different text is displayed (for details, see License key key}.
An additional license option ("OPT-WL White Label Option": https://www.cleverbridge.com/1283/purl-catalog) may be used to remove this poweredBy logo and be replaced by its own logo.
After entering an OPT-WL key under File – License Leys the menu point@File – Custom Logo@can be selected.
The selection of the custom logo image is done as with all other images via the! https://manula.r.sizr.io/large/user/14418/img/button-browse.png! Browse button in Add Custom Logo window.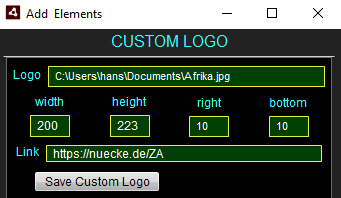 You can adjust the size of the logo via width and height.
The position is done by specifying the coordinates of the lower right corner, relative to the right / bottom edge of the output window.
A value of right: 10 and bottom:10 sets the logo to the very bottom right with 10px distance to the edge of the window.

The values ​​for width and heigth are specified to give the correct aspect ratio. The width is 200px.
If you change the value for the width, the height adapts automatically.
With a click on Save Logo, the image will be adopted as a logo with the set dimensions and position and displayed immediately.
In the Link field you can enter the URL (Website address) to which a click on the logo should link.

Last modified:
2019/02/06
Feedback
Thanks for your feedback.