Add audio as a sound element

An audio file can be used for different purposes, for example:

Matching background music for an open page
Sound document on one side
Audio / Reading Books


Depending on the variant, different functions can be used. Ev. In the future, the AIR / FLASH version will also have the option of placing a play / pause button on a page, as is already possible with the Javascript version.
JS specific options
If a javascript version of the book is edited (select via the menu item "Configure – Pusblish / Distribute"), you can select a Play / Puase symbol, which can be placed and scaled as usual when adding the element to the page.
As well as the two parameters, the currently selected symbol will be loop (infinite loop, continuous sprinkling) and autoplay (the audio will be started as soon as the page is opened as in the AIR / FLASH version).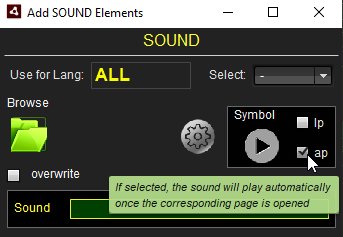 The ability to start and pause / stop selected audio tracks allows you to place "any number" of sounds on a page. Something that is not yet possible in the AIR / Flash version. The output of the sound is always stopped when the page changes.
AIR

/

FLASH

specific options

If you have not already made this selection (in the menu under "Configure – Publish / Distribute"), the above options are displayed and can also be selected, but should not be used since
In the

AIR

/

FLASH

version no play / pause icon can be displayed yet.
It makes no sense to turn off the "autoplay" function, because then nothing will be heard
The loop parameter is better adjusted with all other sound parameters.
On the other hand, because there are many parameters that can be configured in great detail for the output of the automatically starting and stopping sound,
these should be set via the associated * sound parameter window *.
Audio Selection
How an element is selected is generally described in the "Add Elements" chapter:https://doc.megazine3.de/mz3tool.2.4.3.12.doc/en/topic/add-elements:
In the Add Sound Element window, the

icon is clicked. The desired audio file is selected in the opening Explorer / Finder window and accepted with "Open".
Assign sound to a page
The audio element is not yet visible on an AIR / FLASH page; only audible ;-)
Only in the Javascript version will the selected Play / Pause button be displayed in the desired size and position.
A small yellow frame on the preview page, however, symbolizes the position of the Start button (Play Button) in the final Javascript book.
The position of this Play / Pause button can be freely moved with the mouse on the page and placed at the point where the button should appear in the Javascript Mz3 book.

For the mz3Viewer and Flash version only the page is important. As soon as this page is visible, the audio file will be played. Via the Sound Parameters the behavior when opening and leaving the page can be adjusted. In the Javascript version, the behavior is only determined by the Play / Pause button and the two parameters "loop" and "autoplay" are determined.
Last modified:
2019/02/06
Feedback
Thanks for your feedback.