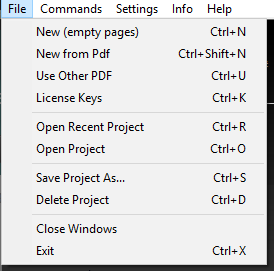 This main menu item contains the following sub menu items:
File

New
Start a new Mz3 Buch with empty pages.
This is the first step for:

Create a book out of Page Images
In case of pages (background images) designed with a Layout/Desktop Publishing Program
Photo Books
To present a collection of photos, making use of the Automatic Add based on the layout option

New from

PDF


New Mz3 Book based on one or several

PDF

files
Use Other

PDF


Extend an already created book, based on a

PDF

file with new pages from another

PDF

file.
This is helpful if pages must be exchanged (error correction), a new version must be loaded or another language is added
License Keys
Add your license key and options (White Label or

PUBL

)
Open Recent Project
Pick one of the recently used Mz3 Projects from a list
Save Project as
Duplicate the actual Mz3 Book to make a backup or to use it as a base for a new Mz3 Project.
Delete Project
Delete the actual are any other Mz3 Project picked from the list of projects.
Any number of projects can be selected for deletion.
Close Windows
CLoses all windows but the main window
Exit
Closes mz3Tool
Last modified:
2019/02/06
Feedback
Thanks for your feedback.