Publish Mz3 book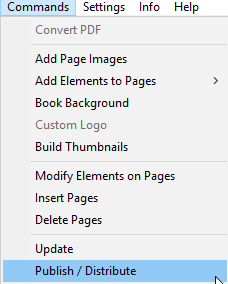 If the Mz3 book is finished or should it be tested "life", the respective "Package" is generated with the help of this menu item.
First of all, everything is updated again (the same function is actually used, which can also be called via Commands – Update.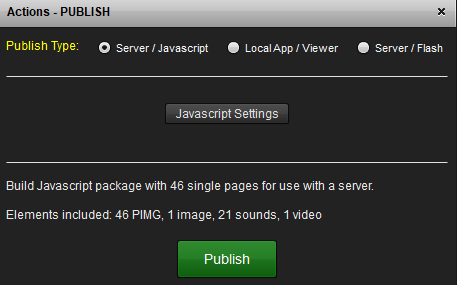 In a "Package" all programs, configuration data, elements, settings, etc., which are required for the display of the book, summarized.
Since MegaZine3 can be used in 3 different program versions, 3 different "packages" can be created.
The program variant can be selected via "radio buttons" in the upper area.
Javascript version
In the example above, the Javascript version is selected.
Before publishing a Javascript version, you can and should check and adjust the special Javascript parameters.
Above the "Publish" button it is summarized which elements are used for the book. It is thus possible to check at a glance whether this is in line with expectations.
If everything is correct, the generation of the Javascript package can be started by clicking on the "Publish" button.
The progress is displayed as usual in the status window. Depending on the size and content of the book, this may take a few seconds.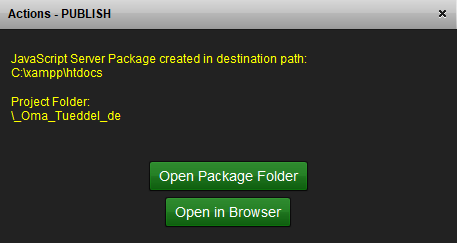 Once the Javascript Package is created, you can view the folder by clicking on "Open Package Folder" in Explorer / Finder.
In the next step, everything will be uploaded to your own online server (see Server Upload).
Alternatively, you can click on the "Open in Browser" button: The standard browser opens and accesses the local XAMPP server (see Local server).
mz3Viewer version
To display the book in the mz3Viewer two things are needed:

mz3Viewer
Anyone can download this free program from our website and install it locally.
There is the viewer as "Windows 10": https: //www.megazine3.de/downloads/mz3v242/demoViewer.msi and "

MAC

OSx variant": https: //www.megazine3.de/downloads/mz3v242/demoViewer. pkg.
The Android and iOS version we have currently put on hold. The performance did not convince us. Meanwhile, smartphones should have caught up vigorously in terms of computing power and it would possibly be worth trying again.
But maybe we will also develop a completely new version on a new platform; and not more with

AIR

and ActionScript …


Mz3 book as

ZIP

package
All data needed by the mz3Viewer is available as a normal

ZIP

file after the "Publish".
For the mz3Viewer to know that this is "his" file format, mz3Viewer packages have the file name extension ".Mz3z".
But you can rename the file and use ".zip", and then unzipping the file with each de-patcher we use 7Zip or winZIP.


An mz3Viewer "mz3z-Package" can be used in different ways:
Open the #mz3z file with the viewer

Drag and drop the mz3z file onto the mz3Viewer icon
Double-click on the mz3z file*


For the last two options (2 and 3) as well as calling "COmmands – Open in Viewer", the mz3Viewer program must be linked to the file extension ".mz3z".
Flash version
This version is hardly used anymore because Flash gets banned in the browser more and more (the option to share Flash is always better hidden ;-)
For the incorrigible or old-timers, however, there is still the possibility to use the Flash version of MegaZine3, which in many points of the Javascript version has a lot more.
Available in Flash, but not (yet) in Javascript:
Slideshow
Search function
Thumbnail navigation
Bookmarks
Videos in the book, also on a double page
100th of setting options
Support of

SFW

files
The downside (aside from dwindling support) is the limited ability to influence design. Although there are the .asul files (style configuration files, similar to CSS Style Sheets in HTML and Javascript solutions), but the use is quite complex difficult to test.
Hence our recommendation:
Last modified:
2019/02/06
Feedback
Thanks for your feedback.