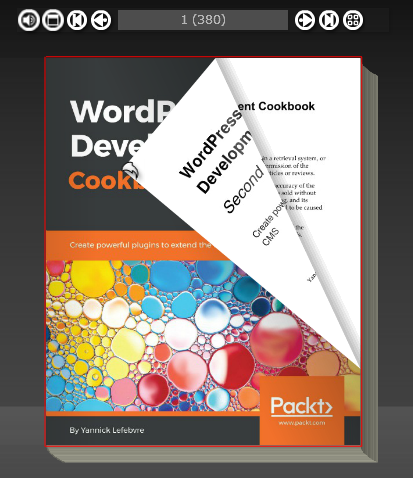 Once all Page Images are assigned to pages, the final book is shown in the preview area of mz3Tool and you can make the first check.
Please keep in mind that the preview area's other purpose is to act as the interface for mz3Tool operations, Therefore not all Mz3 Book operations are possible. And in case of a single book, the inactive page is covered with a grey, transparent layer to indicate what page you are actually working on.

Other operations not passed to the book:

Dragging a page (page flip)
Mouse clicks: start a video, flip a page
Mouse Wheel: flip a page
Mouse gestures: jump to first/last page, flip page, …


For a better control of an intended Viewer or Flash version, you should open mz3Viewer: Open in Mz3Viewer.
To check the result "as in Javascript" please start the book in your browser from a local server (see XAMPP: Use of a local Server).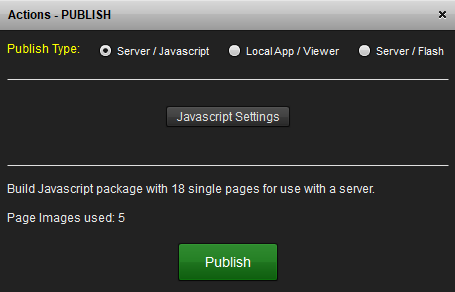 Once you are happy with the result you can publish your book.
For that click the Publish/Distribute submenu item.

There you can select what kind of package should be built:

Javascript
The perfect option to show the book on all common devices (Windows,

MAC

, iOS or Android smartphones and tablets)
mz3Viewer
For use on a computer (Windows or

MAC

) without the need for a network/Internet connection.
And in case you want to make use of the full MegaZine3 functionality (the Javascript version does not support all features yet, like slideshow, zoom, search)
Flash
You should avoid this version since Adobe will stop providing security updates after the end of 2019. And browsers make t more and more difficult to use

FLASH

; only pertinent users or those with some experience still find a way ;-)


Last modified:
2019/02/06
Feedback
Thanks for your feedback.