Add page pictures

Page pictures represent the content of a page. They serve as background, if later additional "elements" (video, audio, pictures, links) are to be added.


 
With the menu item Commands - Add Page Images you can open a window with options for selecting a folder containing the desired (page) images (see Selecting page images page images}),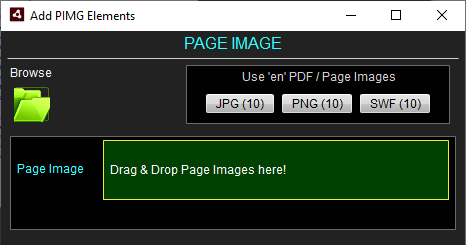 Page images from a
PDF

conversion

If a book is created from a PDF file, the corresponding page images are automatically created by the conversion and stored in folders separated by image type (JPG, PNG, SWF).
After a PDF conversion these images are available, but are not yet "set to pages".
This is done via the automatically opened window "Add Page Images". Only after completing this process (see Adding page images) will the converted PDF pages be displayed in the Mz3 book.
If you abort this process prematurely, the pages will be empty and you will have to run the Kommnado@Add Page Images@again.

Image types created with a PDF conversion:

JPG


Der Seiteninhalt (das extrahierte Bild der Seite) wird komprimiert, wobei man Stärke der Komrpimierung und damit die Qualität und Größe im

PDF

-Konvertierungs-Fenster ausgewählt werden kann (siehe Convert

PDF

).
Diese Art von Seitenbildern ist ideal für Seiten mit vielen Bildern und wenig, aber relativ großem Text geeignet.


PNG


Der Seiteninhalt wird nicht komprimiert. Die Dateien sind größer, aber kleiner Text bleibt besser lesbar. Besonders von sehr detailreiche Bilder auf der Seite sind, steigt die Dateigröße stark im Vergleich zu der

JPG

Version an.
SWF


Dieses spezielle Format, welches überwiegend von Adobe genutzt wird, nutzt für Bilder das

JPG

Format und für Text ein Vektor-Format. Dabei wird Text nicht pixelweise wie ein Bild aus einzelnen Bildpunkten zusammengesetzt, sondern die einzelnen Zeichen mathematisch als "Kurven" beschrieben (Richtung, Länge, Stärke, Farbe, …) und erst vor der Ausgabe in Bildpunkte (Pixel) umgesetzt.
Der große Vorteil dieser Vektor-Darstellung von Text ist die qualitiv hochwertige Skalierbarkeit. Kleiner Text bleibt lesbar und großer, stark vergrößerter Text wirkt nicht verpixelt. EIgentlich ein ideales Format, da auch die Größe der Datei recht klein ist.
Nachteil: Mit der Verbannung von Flash ist dieses Format in Browsern nicht mehr nutzbar, da die Unterstützung von Flash eher behindert und spätestens 2020 auch nicht mehr von Adobe unterstützt wird.
Ausnahme: In Programmen auf Basis von ActionScript3, einer von Adobe unterstützen und weiterentwickelter Programmiersprache, die aktuell überwiegend für Spiele auf allen Plattformen zum Einatz kommt, können

SFW

-Dateien genutzt werden.
Der MegaZine3 Viewer und auch mz3Tool wurden mit ActionScript3 umgesetzt und unterstützen damit nach wie vor diesen Bild-Typ.
p(banner tip).
Für Bücher, die im mz3Viewer angezeigt werden sollen, sind SWF-Bilder nach wie vor eine ideale Basis!
Seitenbilder aus
JPG

und

PNG

Bildern

Hat man keine PDF-Version des geplanten Mz3 Buchs, welches als Basis dient, können leere Seiten auch mit beliebigen Bildern ausgefüllt werden.
Das können tatsächlich Fotos sein, oder Seiten, die man einem Programm als Bilddaten exportiert hat, welches man für die Erstellung von Dokumenten gewohnt ist und vorzugsweise nutzt.
Wichtig ist nur, dass die Bilder alle dasselbe Seitenverhältnis wie die Buchseite haben. Und eine passende Auflösung.
Viele werden Word (Microsoft) oder eine OpenSource Variante kennen und nutzen. Professionelle Designer verwenden häufig InDesing oder Quark. Aber auch Photoshop, Corel etc. können zur Erstellung von "Seiten" genutzt werden.

Last modified:

Mar 24, 2019
Feedback
Thanks for your feedback.