Add audio as a sound element

An audio file can be used for different purposes, for example:

Background music for an opened page
Audio documentation on a page
Audio Books


Depending on the variant, different functions can be used. Probably the option of placing a play / pause button on a page, as already available with the Javascript version. will become available for the mz3Viewer and Flash version also..
JS specific options
If a javascript version of the book is edited (the version can be selected in the window that opens with the command "Configure – Pusblish / Distribute"), a Play / Pause symbol can be selected, which can be placed and scaled as usual when added to the page.
The currently selected play/pause symbol is shown in the "Add Sound Elements" window, together with the lp (infinite loop) and ap (autoplay: the audio will start as soon as the page is opened, like in an AIR / FLASH version) switches, that can be toggled here..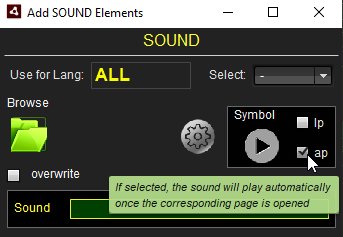 The option to play and pause audio tracks allows to place "any number" of sounds on a page. This is not yet supported by the AIR / Flash version. A sound always stops when the page is flipped.
AIR

/

FLASH

specific options

If you have not already made this selection (in the menu under "Configure – Publish / Distribute"), the above options are displayed and can also be selected, but should not be used since

The AIR / FLASH version does not support a play / pause icon yet, so the audio could not be started if autoplay is disabled. Therefor this switch always must be activated in an AIR/FLASH version.
The loop parameter should be adjusted together with all other sound parameters.

There are many parameters that can be configured in great detail for the AIR/FLASH version.
Adjustments should be made in the special * sound parameter window *.
Audio Selection
The general selection of elements is explained in the "Add Elements" chapter:https://doc.megazine3.de/mz3tool.2.4.3.13.doc/en/topic/add-elements:
Click the

icon and select teh audio file.
Assign sound to a page
The audio element is not yet visible on an AIR / FLASH page; it only plays the sound automatically, when the page is opened ;-)
Only the Javascript version supports Play/Pause buttons at a selected position with a defined size..
A yellow frame on the preview page symbolizes the position of the Start button (Play Button) in the final Javascript book.
The position of this Play / Pause button can be moved with the mouse on the page and placed where the button should appear in the final Javascript Mz3 book.

For the mz3Viewer and Flash version only the page is of importance. As soon as this page is visible, the audio file will play. Via the Sound Parameter Settings the behavior when opening and leaving the page can be adjusted. In the Javascript version, the behavior is only determined by the Play/Pause button and the two parameters "loop" and "autoplay".
Last modified:
Mar 26, 2019
Feedback
Thanks for your feedback.