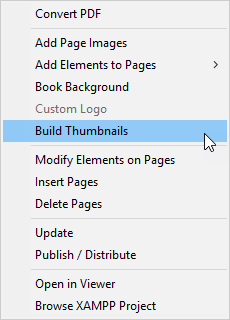 Thumbnails for the Javascript Version
Since Version 2.4.3.13 Thumbnails are supported in the Javascript Version also.
These Thumbnails are built automatically whenever Page Images are assigned to pages.(see Add Page Images)
If no Page Images are used or had been added already in former versions, Thumbnails can be added using this "Build Thumbnails" window.
If no Page Images are available, thumbnails can be created offline, e.g. in making a screenshot of a page of a "life" book. Or designed using any dimage editing program.
If Page Images already are available, those Page Images can be selected to be used for thumbnails.
To select the Page Images either use the

button and select the Page Images in the File Explorer/FInder-WIndow that opens as reaction. Or as better approach select all page images and then drag&drop the selction on the green field, dedicated to this.Especially if more than ~150 page images should be selected, using drag&drop is the only working option.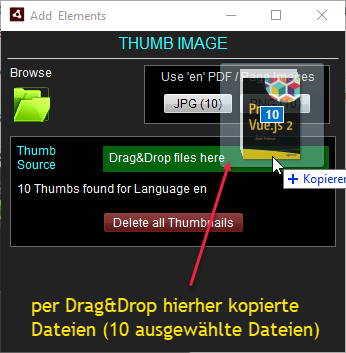 After the selection is made, a Window opens where all fields are listed in a table.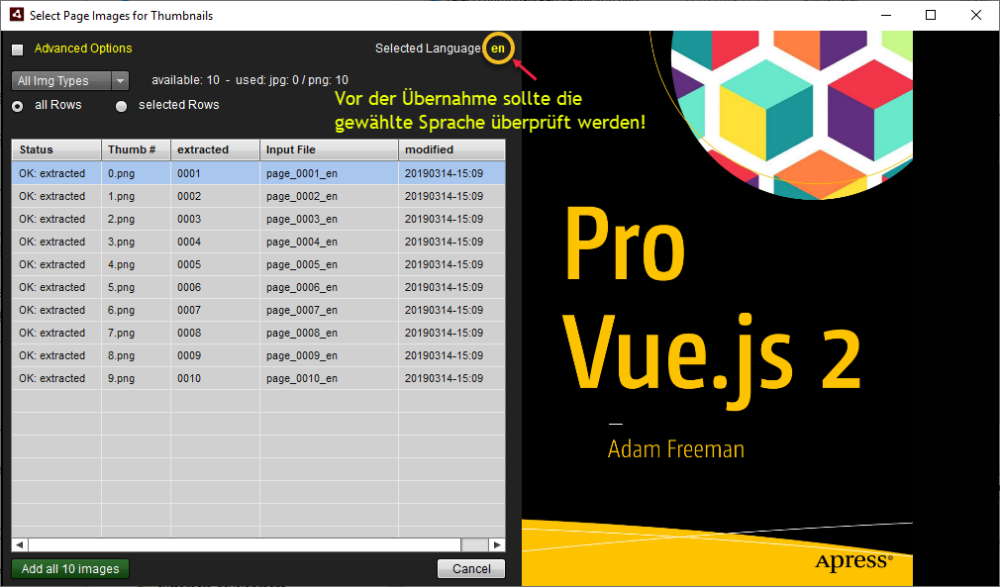 This serves as tool to assign thumbnails to pages. mz3Tool attempts to make this assignment automatically, but a thourough check is recommended. There a several options that help in making the correct assignment. Most are explained in the chapter Assign Page Images to pages. The controls available are very similar.
If everythins is OK, the selected Page images can be converted into Thumbnails with a clicko on the "Add" Button.
If the assignment to pages is incorrect, only the correctly assigned thumbnails can be selected.
A selection is done the usual way: select single rows with a click of the left mouse button together with the "CTRL-Key".
A block of rows can be selected in ckicking first row of such a blick and then clicking the last row while the SHIFT Key is pressed.
Worst case making use of the "Advanced Options":

or renaming the Page Images should help.

Here special filter and sort options support in defining the correct assignment of page numbers to thumbnails.
If Thumbnails should be used at all can be set in Settings – Configure Javasript Settings:
Thumbnails for the mz3Viewer or Flash Version
The mz3Viewer and FLASH verion build thumbs automatically while the pages are loaded. The thumbnail bar consists of a row of "bubbles", representing one page each. The preview of the page corresponding with the hovered bubble ,is shown over the actual open pages.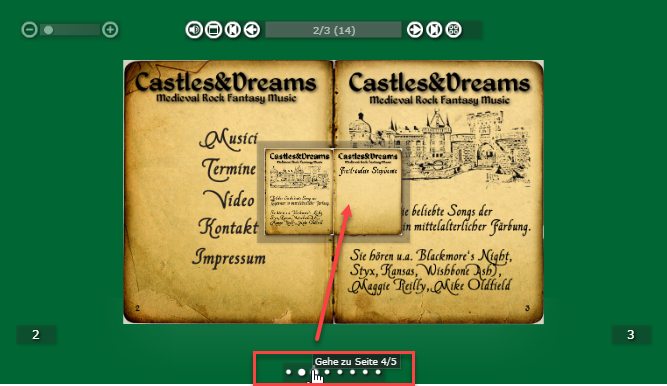 Alternatively Thumbnails for mz3Viewer/FLash books also can be prepared offline. They must have the correct size (25% of the original page size), being named correctly.and saved in a folder named "thumbs/".
This is not supported by mz3Tool.
But: Thumbnails prepared for the Javascript version also can be used for the mz3Viewer and Flash-Version.
For that the path to the thumbnails must be set as "book Parameter".
The pathname where thumbs for the Javascript version are stored is built like this:
"thumbs_"(mz3 project name)"_lc"
With "lc" being the language code. The mz3Viewer and Flash version only support thumbnails of one language. So it is up to you to decide what thumbnails to use in selecting the appropriate language code.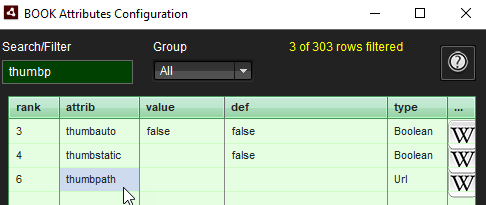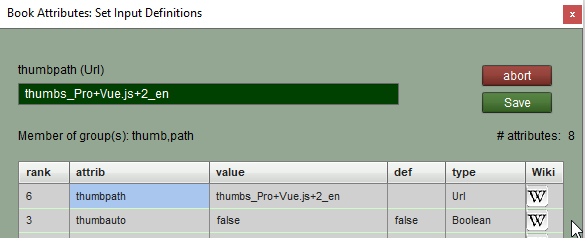 Last modified:
2019/03/28
Feedback
Thanks for your feedback.