If possible, images should be assigned to pages automatically . Tthis will save a lot of time!
If a single image needs to be replaced, it often is easier and faster to manually place this image on a page.
This can be done in 2 ways:

As page image (

PIMG

) via "Add Page Images"
Inserting a page image / background image via Add Page Images is the better approach than placing an image as image element as shown next: Add Image Element }.

For example, when customizing page content:https://doc.megazine3.de/mz3tool.2.4.3.13.doc/en/topic/modify-elements-on-pages page images (

PIMG

s) can be filtered, so only used Page Images are shown.
With such a filter settings Image Elements are not be shown.
mz3Tool checks that only one Page Image is used per page.
Page images are always placed first on a page and therefrore act as page background image. Image Elements always are stacked on top of Page Images.

As Image Element, scaled up to cover the full page size
This option also is shonw in this example, but because of the arguments listed under point 1 the first method is the better approach.


Place Single Page Images manually
In the first approach the image is selected as usual (Add Page Images, Select Page Images Page Images}.
In the "Assign Images to Pages" window the assignment to page numbers can be checked.
If that's not the case, either the destination page can be opened via the usual page controls, ot the difference is entered as Offset
!(Left)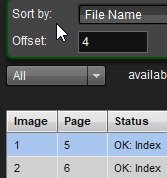 Here, an offset of "4" has been added, resulting in the first image being assigned to page number 5.
The offset is also added to all subsequent pages
p(banner tip). An offset may be negative! That way unwanted pages can be moved outside the page range of ​​the Mz3 book and been excluded that way
Via the menu Comments – Add Elements – Add Image Element selected images can be added to pages.
The image is selected as usual via the Explorer / Finder (or via Drag&Drop).
Automatic placement typically makes use of a layout (i.e. fields of fixed size, located in a "grid").
The selected image is placed on the actual open page (if there is free space, i.e. an empty layout field).
!(Left)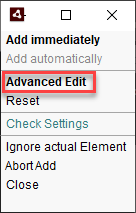 Via the Advanced Edit command in this this pop-up window that opens automatically as soon as an image / photo has been selected and displayed in the Mz3 book. the "Advanced Edit" window can be opened
Under "Posiiton & Size" there is a button Full Page. Clicking this button expands the image so it covers the full page size; similat to a page image. In this case Edge settings are ignored.

With "Add" the image added to the selected page; with the defined parameters as location and scale factor.
Last modified:
Mar 25, 2019
Feedback
Thanks for your feedback.