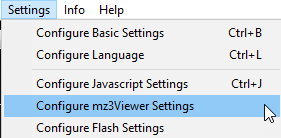 mz3Viewer could support all FLASH settings (and more). But many FLASH settings are unused and not really needed.
The option to sort parameters by priority is helpful, but still: the sheer amount of options is confusing.
Since FLASH will be history soon, we focus on the Javascript and mz3Viewer version now. To help users in finding meaningful configuration options many parameters no longer are listed in the Javascript and mz3Viewer version.
The "balance" momentarily looks like this:
Javascript: 64 book parameters, no "official" page parameters yet
mz3Viewer: 49 book parameters, 28 page parameters

FLASH

: 303 book parameters, 28 page parameters
Side effect: If a "FLASH" parameter is modified, it might (!) be used in the other versions also! This can be used if e.g. a parameter is missing in the version of interest: It's worth an attempt to set that parameter in the FLASH version because it might work in the desired version also!
If you already know a special parameter and want to use it, feel free to give it a try!
Making use of book and page parameters is straight forward and comfortable, and very similar for all 3 versions.
Please find details in the following chapters:
Book Attributes
book wide parameters
Page Attributes
page specific settings
Most of these parameters are the same as the corresponding book parameters, but can be overwritten on a page level.
Example:
page background color "bgcolor"
The general color setting for all pages is made as book parameter, whereas a different color can be assigned to selected pages as page parameter.
Last modified:
2019/03/27
Feedback
Thanks for your feedback.