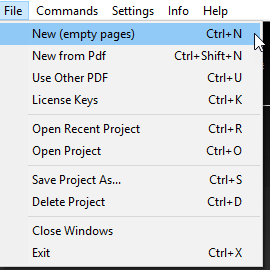 Select File – New in the main menu..
In the window that opens you can set the page parameters (page size, page count, book type).

Page Size
If you already prepared the Page Images (and you should!), then you know the aspect ratio and can set a page size according to the image size.
As good compromise for image and page size is something like width = 875 and height = 1000 for a single page (respective width = 1750 and height = 1000 for double page books).
Although page and image sizes do not have to match in size, at least the aspect ratio should be the same so the page images do not get distorted when they are scaled to fit the page.
Another aspect to consider: If your Page Images are just the page background and you plan to add single images on pages later (e.g. in making use of the automatic layout feature), then you should keep that in mind when defining your page size.
Number of Pages
You also should set the number of pages.
All that can be changed later (Basic Settings, Delete or Insert Pages), but making the right decision before you start the book can save some time!
Project Name
Finally select a name for your book, if the book is not just for test (then you can go ahead and accept the proposed date/ time-based name).
with lc = language code; like "en" or "de"
Last modified:
Feb 10, 2019
Feedback
Thanks for your feedback.