When mz3Tool starts and no previous Mz3 Project is found a "Splash Screen" (start screen) is shown; with 2 buttons; the only 2 options you have at that moment.
New Book from

PDF


You just have to pick a

PDF

file, and page size and page count will read out of the

PDF

file; shown in this chapter.
New Book with empty Pages
A book of the defined page size and number of pages will be created; with empty pages.
In the next steps, you will then add content: images, video, sound
The following 2 chapters demonstrate the second option:

Layout based Book
Page images, i.e. images of the size of a book page that act as the page background, are used to build the pages.
Those images will be placed automatically on pages.
Also, a very straightforward and fast approach to build a book.
New Book from Photos.
For this, an empty book with the correct page size and number of pages is created first, and then a collection of photos is placed on the pages in a defined layout (2 images per single page).


First Step: Select the
PDF

File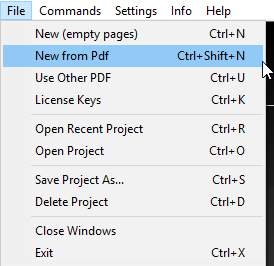 Select the menu item File – New from Pdf from the main menu.
Click on the "Browse Button"

to open the Explorer (Windows) or Finder (MAC OSx).

Next time the recently opened folder will be proposed.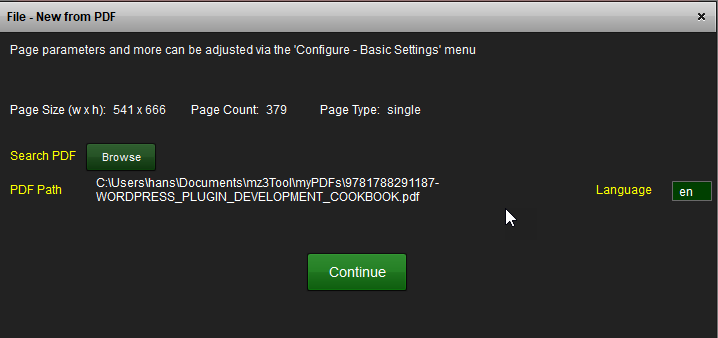 First Step: Select the
PDF

in your browser/finder.

The selected PDF file is read and some information like page size and number of pages is extracted.
That data can be shown at any time via the menu item PDF Info.
If the file exists and is of the correct type (i.e. a PDF file), the Continue button is activated.
Second Step: Convert the
PDF

File

After a click on Continue the Convert PDF window opens automatically.
Usually the default values can be accepted. A click on Continue starts the process: Every page is converted into an image (always 3 image formats are created: JPG, PNG and SWF).
Third Step: Add the built "Page Images" to the book
Once the PDF conversion is finished, the window "Add Page Images" opens automatically. Here you can select all Page Images in the preferred image format. The Page Images are assigned to correct pages of the book automatically. Once you confirmed, the Page Images are added to the book. At the end of this process the book is built and presented in the preview area of mz3Tool.
Last modified:
2019/03/25
Feedback
Thanks for your feedback.