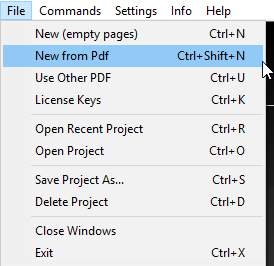 Creates a new Mz3 Book based on a PDF File.

Click the

button to select a PDFFIle. Once the file is selected and accepted with the

button, the PDF information is extracted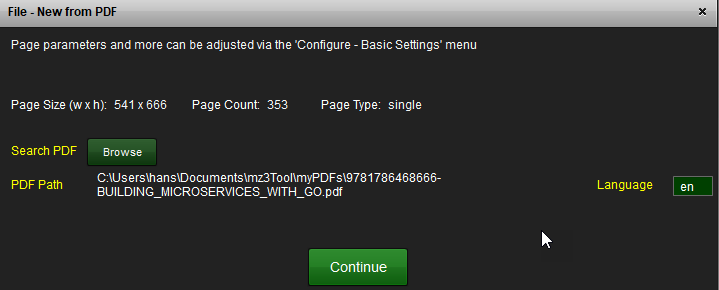 The PDF Information contains data such as:

Page Sizes
In case the size of the second page is double in width compared with the first page, the book type is set to "double page book"
Page Count
Creation Date
Modification Date
Author Name


and more.
If the naming of the PDF file follows best practices and contains a language code at the end (2 lower case letters representing the language followed after an underscore), that language is used as book language.
In this example, there is no language code available, so "en" for English is proposed. This code can be overwritten to change and select the correct language for the book.
This only is needed in case a multilingual book is planned and the content of the pdf file is in a different language.
If all settings are OK you can Continue and the PDF Conversion Window opens automatically and the first conversion can be started.
You might want to adjust quality and page size first.
If everything is OK you can open the "PDF Conversion Window:https://doc.megazine3.de/mz3tool.2.4.3.13.doc/en/topic/convert-pdf again and make the next/final conversion.
Last modified:
Mar 25, 2019
Feedback
Thanks for your feedback.