Open Mz3 project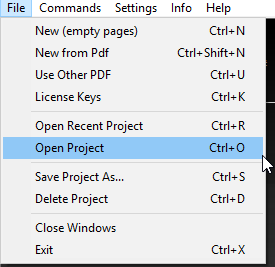 If you can not find an Mz3 title via the menu item @Open Recent Project@, you will get a list of all Mz3 projects that are defined in the defined menu item@Open Project@Path for mz3Tool projects are located.
After selecting File - Open, a window opens with a table showing all projects in the current project path.
23.03.2019 Open Project Window completely reworked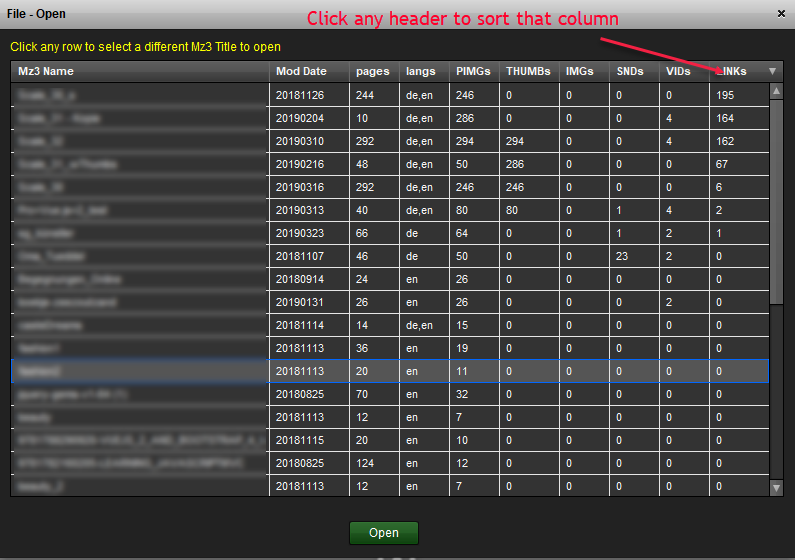 The columns show some key project data:

Mz3 Project Name
Modification Date
Page Count
Language(s)
Count of Page Images

PIMG

; across all languages)
Thumbnail count; total across all languages
Count of

PDF

converted pages across all languages (i.e. the count of

JPG

,

PNG

,

SWF

files each)
Element count over all languages, separate by element type: Sound/Audio, Video and Links/Areas


A double click in a row opens the respective project.
A signle click selects the project, which then can be opened via the Open button
Every column can be sorted with a click into the title (header cell) of a column.
A next click into the same column header reverts the sort drection.
The selected project remains selected and visible.
Very helpful also for plausibility checks and bug fixiing
Last modified:
2019/03/23
Feedback
Thanks for your feedback.