Publish Mz3 book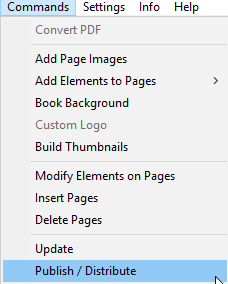 If the Mz3 book is complete or a "real-life-test" is desired, the respective "Package" can be generated via this menu item.
First, the book is updated (like called via Commands – Update).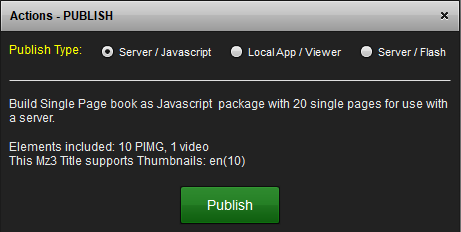 A "Package" combines all programs, configuration data, elements, settings, etc., needed to present the book.
Since MegaZine3 can be used in 3 different program versions, 3 different "packages" can be created.
The program variant can be selected via "radio buttons" in the upper area.
Javascript version
In the example above, the Javascript version is selected.
Before publishing a Javascript version, the special Javascript parameters should be checked.
An overview list provides a summary of all used elements. This supports a quick plausibility check:

is the number of page images equal to the number of thumbnails?
For a single Page Book: is the number of Page Images equal (single language) or n-times (n languages) the number of pages?
For a double page book: is the number of Page Images equal to half the number of (single) pages + 1?
Are all languages listed?
are all expected elements listed?


If everything is correct, the generation of the Javascript package can be started with a click of the Publish button.
The progress of the publishing process is displayed as usual in the status window. Depending on the size and content of the book, this may take a few seconds.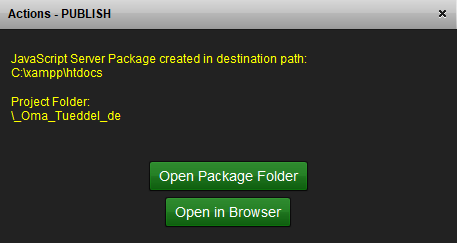 Once the Javascript Package is created, the folder containing that package can be visited in the File Explorer/Finderi after clicking Open Package Folder .
The next step is uploading all the content of the package to the server (see Server Upload).
Alternatively, if a local server like XAMPP is installed, the "Open in Browser" button is shown which opens the standard browser and accesses the files via the local XAMPP server (see Local server).
Requirements: A working and running XAMPP Installation is needed, which acts as local Server.
mz3Viewer Version
To present the book in mz3Viewer two requirements have to be met:

mz3Viewer must be installed
Anyone can download and install this free program from our website.
mz3Viewer is available as Windows 10 and

MAC

OSx Variante.
The Android and iOS version actually is put on hold.
We are planning a completely new version using a new platform. Once that happens, those platforms will be supported again.


Mz3 book as

ZIP

package
All data needed by the mz3Viewer is "packaged" as a standard

ZIP

file during the "Publish" process.
This

ZIP

-Package has a specific folder structure and therefore also a special extension: mz3z.
This helps mz3Viewer identifying compatible packages. This also allows linking mz3Viewer with this file type without creating conflicts with other programs supporting zip files.
But the extension can be changed to "zip", and then unzipping the package with any program like 7Zip or winZIP is possible.


An mz3Viewer "mz3z-Package" can be used in different ways:

Open the #mz3z file with the viewer
Drag and drop the mz3z file onto the mz3Viewer icon
Double-click on the mz3z file*


For the last two options as well as calling "Commands – Open in Viewer", the mz3Viewer program must be linked with the file extension ".mz3z". This usually is done during the installation process of mz3Viewer.
Flash version
This version is no longer used because Flash gets banned in the browser more and more.
For those who still need it, there is the option to select the Flash version of MegaZine3, which still offers certain advantages compared to the Javascript version:
Available in Flash, but not (yet) in Javascript:
Slideshow
Search function
Thumbnail navigation
Bookmarks
Videos in the book, also on a double page
100th of setting options
Support of

SFW

files
The downside (aside from dwindling support) is the limited ability to influence design. Although there are the .asul files (style configuration files, similar to CSS Style Sheets in HTML and Javascript solutions), the use is quite complex and difficult to test.
Hence our recommendation:
Last modified:
Apr 02, 2019
Feedback
Thanks for your feedback.