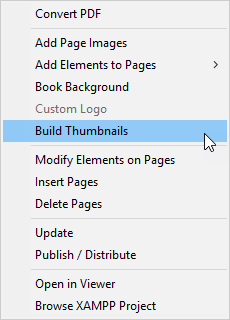 Thumbnails for the Javascript VersionF
Since Version 2.4.3.13 Thumbnails are supported in the Javascript Version also.
These Thumbnails are built automatically whenever Page Images are assigned to pages.(see Add Page Images)
If no Page Images are used, e.g. in case of a photo book with no page background or just Images as page background, no thumbs are built. Also mz3Tool versions < 2.4.3.13 do not support thumbsnails.
In such case you have two options:

you create thumbnails manually, e.g. via screenshots of the pages or with a photo editing tool like Photoshop
you use existing images for the thumbnails. Those images should be Page Images, so they have the correct aspect ratio and also consider the page type: one image per page with single page books, 1 image spanning 2 pages.


The second option is the easiest one, especially if you use Page Images built/used by mz3Tool.
You can find those images at these locations:

Projekt Folder: In the sub folder "assets_c/pimg".
In htis folder the page images of all languages in case of a multilingual book are collected
"Selected Images": The new version creates a special folder for each language whenever a "Add

PIMG

s" command is executed:
"(Mz3 Projektname)/(lc)/_imagesSelected/", with "lc" as Language Code; z.B. de oder en


Example:
C:\Users\_user_\Documents\mz3Tool\_mz3ToolInternal\_Scale_33\Scale_33\en\_imagesSelected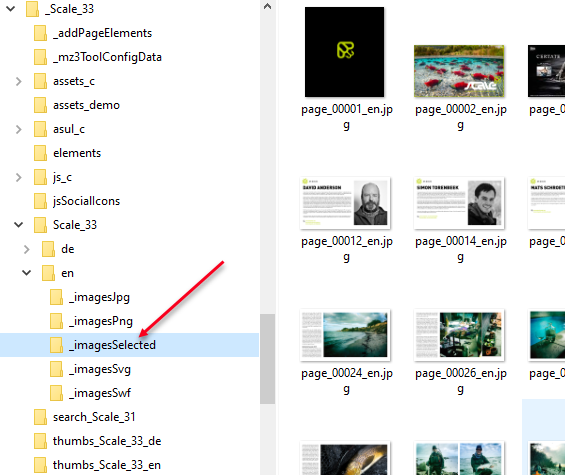 Image Folders used by a

PDF

Conversion
If a

PDF

file was converted, the page images for three image types are created; and each set of images is saved in a respective folder:
_imagesJpg
_imagesPng
_imagesSwf
For thumbnails only JPG and PNG images can be used, though
The selection of the images used for thumbnails can be done via "Open" in the File Explorer /File Finder, or via Drag&Drop.
The actual Version of the used programming language (Adobe AS3; a 32 Bit Version) results in a program crash after about 150 files loaded. Hopefully a future 64 bit version will solve this problem.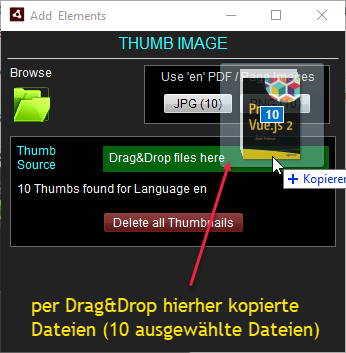 After the selection is made, a Window opens where all fields are listed in a table.

Please check the assignment of images and thumbnail number. Usually mz3Tool finds the correct assignment and the thumb file names have the correct sequence and Thumb number. Thumb numbers (identical to the file name) start with 0 and for both single and double-page books are numbered by increments of 1 like: 0.jpg, 1.jpg, 2.jpg, …
If the sequence of images is not correct, try to click the header of one of the 4 most columns (calc pg#, input File, modified, created).
Usually one of the resulting "strategies" leads to successful results.
If everything is OK, the selected Page images can be converted into Thumbnails with a click on the

Button.
If Thumbnails should be used or not can be set with the Settings – Configure Javasript Settings command.:
Thumbnails for the mz3Viewer Version
The mz3Viewer version build thumbs automatically while the pages are loaded. The thumbnail bar consists of a row of "bubbles", representing one page each. The preview of the page corresponding with the hovered bubble is shown over the actual open pages.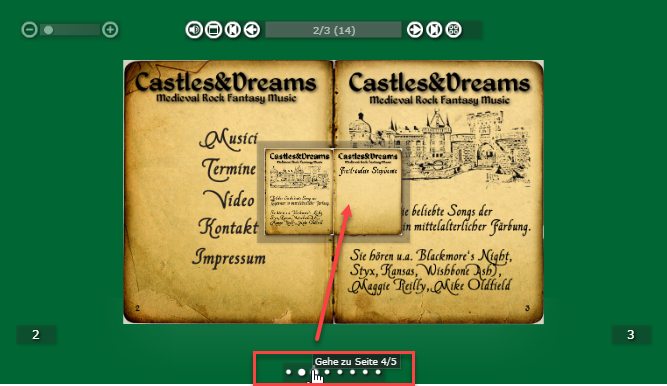 Alternatively, Thumbnails for mz3Viewer books also can be prepared offline. They must have the correct size (25% of the original page size), being named correctly. and saved in a folder named "thumbs/".
This is not supported by mz3Tool.
But: Thumbnails prepared for the Javascript version also can be used for the mz3Viewer Version.
For that, the path to the thumbnails must be set as "book Parameter".
The pathname where thumbs for the Javascript version are stored is built like this:
"thumbs_"(mz3 project name)"_lc"
With "lc" being the language code. The mz3Viewer version only supports thumbnails of one language. So it is up to you to decide what thumbnails to use in selecting the appropriate language code.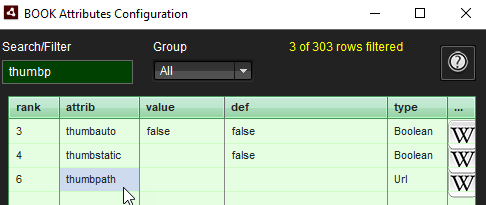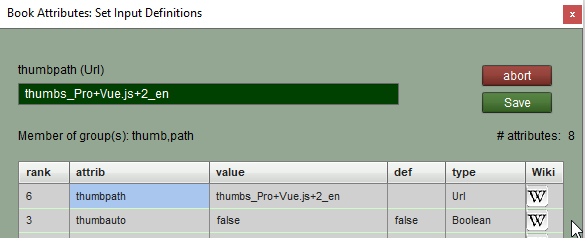 Last modified:
2019/08/18
Feedback
Thanks for your feedback.