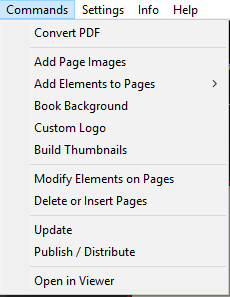 Convert

PDF


Convert the selected

PDF

file into Page Images (

JPG

,

PNG

and

SWF

images)
Add Page Images
Add Page Images (the resulting images drom a

PDF

conversion or images expported from a desktop publishing tool.
Book Background
Add a background image behind the book or as page background
Custom Logo
Make use of your own logo instead of the "poweredBy" Logo. For this function the White Label Option is needed.
Build Thumbnails
For future use (not yet implemented)
Modify Elements on Pages
Check and modify elements on pages: move/copy/delete elements, change parameters, purge unused data
Update
Rebuild the book, e.g. after elements have been added or in case something does not look or work as expected.
Publish/Distribute
Collect an Offline or Online Package.
Open in Viewer
Show the actual Mz3 Book in mz3Viewer (for verification puproses)
Last modified:
2018/12/03
Feedback
Thanks for your feedback.