Starting with version 2.4.3.7 mz3Tool supports a context help function. For that feature, this documentation is used. mz3Tool always opens the version of the documentation that fits the program version.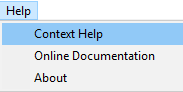 You can open the context help window (a special browser window) via "Help Context Help".
Together with the selected action, a click in the menu opens the related chapter in the documentation.
The context help opens up on the right of the screen and can be scaled and moved.
If the window is of a certain minimum width, on the left of the window the Table of Context is shown.
You also can open the ToC with a click on the

button on the top left in the header area.
The content of the window can be moved in scrolling the mouse wheel. Zoom is not supported
Most screenshot images can be shown in full resolution in a lightbox after a click on it.
The document's language depends on the book settings when the context help is opened. It can be changed any time via the language option selector in the top right of the help window.
Please consider using the "Search", available in the top right header area.
After entering a keyword a hit list is presented and you directly can pick the chapter of interest.
The window is closed as usual and can be (re-) opened via "Help – Context Help". If the Help Window is open but actually hidden, a click on the submenu item pops it up in front again.
Last modified:
2018/11/26
Feedback
Thanks for your feedback.