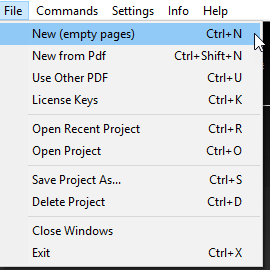 Start a new Mz3 Project (a new book) with empty pages.



For first tests please accept the default settings. You can adjust all parameters later
Page Size and Page Count
As page count, the size of the first single page is defined, even for a double page book.
The page count of single page books is identical to the number of page images needed.
In the case of double page books, two adjacent pages are combined to one double page and therefore fewer page images than the number of single pages are needed.
You can define the size of the book either in providing the page or the image count.
For double-page books, it mostly is easier to use the number of images and let mz3Tool make the math, based on this formula:
i = p/2 + 1           Double Page Book with 168 single pages: 85 page images needed
p = (i -1) * 2        85 page image needed for a double page book with 168 single pages
Type of Book
You can select between single and double page books. Page counts are adjusted accordingly.
Define the Project Name

This name is used as the folder name and file name for the Mz3 Project. It is also used for many more file and package names:

Project Folder
MegaZine3 "Packages"
All needed files and folders for a certain package (mz3Viewer Oflline package, Javascript or

FLASH

Offline package) are collected and the name of the package is based on the Mz3 Project Name also.
mz3-FIle Name
As default name, a name built from the actual date and time is used.
Better are names that indicate the purpose of the book and contain a version number and a date.


Language Selection


As default language "en" for English is used. This only matters if a multilingual book is planned. Then you should make the appropriate selection.
Later you can add more languages either via the Language Selection Menu or based on another PDF FIle.
Anyhow, you always can change the language assignment individually by element also later (Modify Elements on Pages).
Last modified:
2018/12/04
Feedback
Thanks for your feedback.