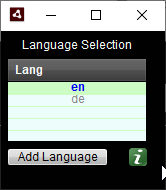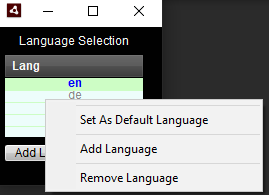 On a right click on a line with a language code in the table a context menu opens and offers these options:
Set As Default Language
A default language always must be defined. This language will be used if the actual local language of the browser is not available in the Mz3 Book.
In most cases, "en" will be the default language
Add Language
This commands adds an additional language to the book. The language is defined via a 2 character language code (low capitals), like "en" or "de".
Confirm the entered language code with ENTER
A language also can be added with a click on the Add language button
Remove Language
This removes the clicked language code from the book
Attention: No content is deleted! If you want to delete language-specific elements,
please use Command – Modify Elements on Pages and delete all elements of this language first!
Last modified:
2018/11/19
Feedback
Thanks for your feedback.